This year at Phoenix Comicon,  I was able to to sit down and chat with the enchanting Moon Mermaid, a local Arizona Mermaid, in her native sea shell habitat. I personally have been surrounded by pirates and mermaid enthusiasts all my life, Moon Mermaid example of the positive impact she could have is inspiring.
She was happily sitting with children of all ages taking pictures and handing out treasures.  She, her mermaid friends and her pirate friends have created a new photo children's book called, "Moon Mermaid and the Treasure of Friendship." For the last few months, she has been gathering funds to self publish the book through her gofundme website. (http://www.gofundme.com/MoonMermaidsBook)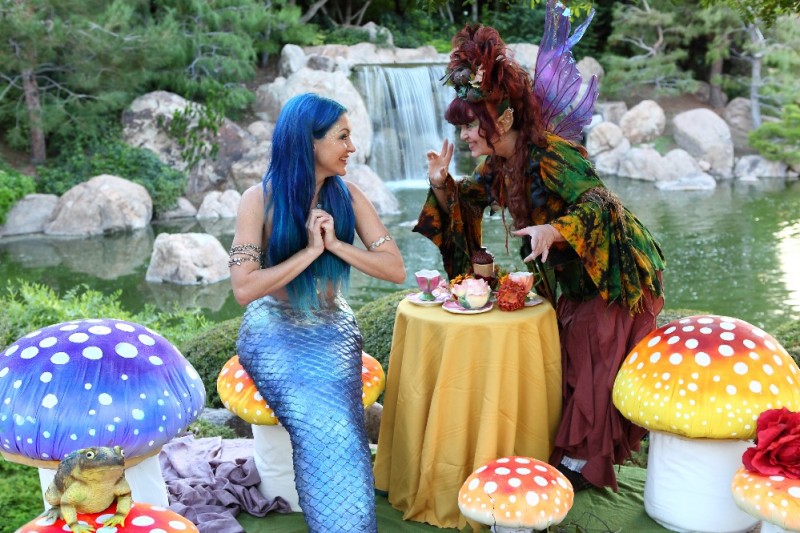 The book, with vivid photography by Grant Brummett and Neil Johnson, is described as follows:
Dive into a world full of waterfalls, pirate islands, mermaids, fairies, a wizard, a unicorn and of course magic! "Moon Mermaid and the Treasure of Friendship" is a beautiful photo story book about a lonely mermaid that finds a very special treasure map and on her adventure discovers that friendship is the most magical treasure of all! – MoonMermaid gofundmepage page
"I am proud that we took all the photos in Arizona,"  said Moon Mermaid, "one special location was Fossil Creek in the center of Arizona."
"It was difficult sometimes since I have quite a few mermaid gigs in California, but it was worth the effort to keep the book Arizona authentic."
Moon Mermaid and friends spend their time all over the southwest, bringing joy to children and adults for parties and events throughout the year. They even have access to one of the largest viewable pools for mermaid frolicking and fun for larger events that can accommodate it.
I, for one, love this book and hope more children and adult children get to read it.